NYU Tandon's "Faculty-Engineers in Residence" Program Is Thriving
September 9, 2019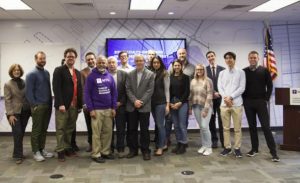 There are several advantages to being a tenant company in NYU Tandon's network of Future Labs: office space in the heart of the fastest-growing tech hub in the country, access to an exceptionally talented and motivated pool of interns, introductions to new markets and sources of capital … the list is a long one.
And if you're a start-up trying to gain a foothold in an ever-evolving tech landscape, one of the most exciting aspects of being affiliated with NYU Tandon becomes apparent as soon as a thorny technical problem arises: the ability to get solid advice from a Faculty-Engineer in Residence.
In the Faculty-Engineer in Residence (F-EIR) program, professors from various disciplines, many of them with extensive entrepreneurial experience of their own, hold regular office hours at the Future Labs, ready to contribute their extensive domain-specific expertise to the success of the tenant companies.