2020 J-Term Startup Sprint Finale…and now, to the future!
January 28, 2020
By Francesco Lavini
For the past 2 weeks, the 2020 J-Term Startup Sprint teams have been working uninterruptedly on their startups and ideas, under the experienced guidance and constant support of the Leslie e-Lab Entrepreneurial Institute mentors. Co-sponsored by the Convergence for Innovation and Entrepreneurship Institute total of 11 teams participated and concluded the program, tackling impactful challenges across a wide range of fields, from education to health care, data analytics and construction. During the closing event presentations, the teams illustrated the fruits of their hard work and the progress they made towards a better consolidation of their business ideas. Here is what they learned.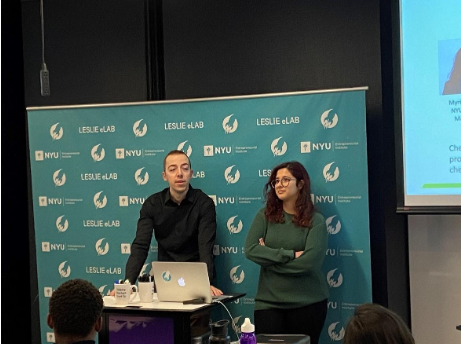 From left to right, Will O'Connell and Myriam Sbeiti, from ChemAIstry
The first team to present was ChemAIstry, represented by Myriam Sbeiti (Tandon '18) and Will O'Connell (Tandon '20), who promote machine-learning to optimize and facilitate the analysis of electrochemical reactions in the synthesis of lead molecules in pharma. Thanks to Myriam's work with Sunthetics ( 2018 J-Term Startup Sprint alumna and a successful startup), she brought her entrepreneurial expertise to ChemAIstry table, enriched by Will's programming skills. Most of their efforts during the Sprint were focused on customer discovery and surveying pharmaceutical professionals, who represent their potential target market, and they will continue exploring in this direction in the coming months.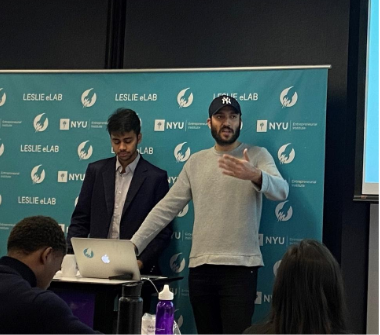 From left to right, Bilal Munawar and Raheel, from dptron
Next on stage were Bilal Munawar (Shanghai '21) and Raheel Ahmad (Shanghai '21). Co-founders of dptron, they want to help marketing data analysts to optimize their marketing campaigns with cleaner data and better-trained machine-learning models. During the course of the Sprint, the two founders learned how to communicate their value proposition in an easy-to-digest manner to C-suite executives and clients. "Keep it simple" is what they have been told from mentors over and over.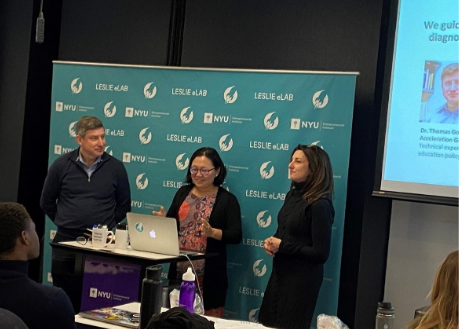 From left to right, Dr. Thomas Gold, Dr. Ying Lu and Dr. Maria Grigod, from MiMA
Dr. Maria Grigos and Dr. Ying Lu, both Associate Professors at NYU Steinhart, with Dr. Thomas Gold and Kate Wang (Steinhart '20) envisioned MiMA (previously Mimameith) as a platform to guide speech pathologists in making more accurate and faster diagnostic decisions for children with motor speech disorders. Driven by their profound expertise in the field of education policy and speech pathology, the team managed to develop a well-defined business proposition, and delineate a solid strategy for the future. Being at an early stage of the service development, they acknowledged the help and importance of mentorship opportunities offered during the Sprint.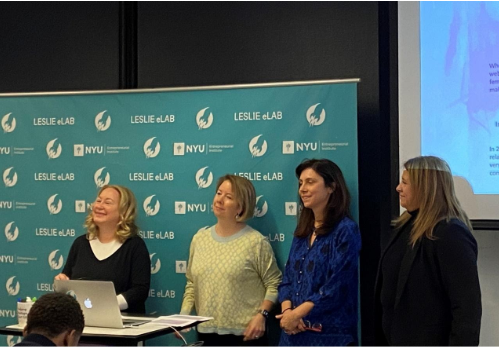 From left to right, Ilysse Rimalovski, Christine Garofoli, Faye Nikolaidis and Ilene Grossman, from CaregiveHer
Spontaneously cheered by all the other teams, the presentation given by CaregiveHer founders Ilysse Rimalovski (Gallatin '21) Christine Garofoli, Ilene Grossman and Faye Nikolaidis was undoubtedly the most heartfelt. CaregiveHer focuses on supporting people actively providing non-medical care to their female friends with breast cancer. It focuses on how to maximize empathy and deliver competent, confident support. Initially the service was intended to support women across the life spectrum at the most delicate moments, but driven by the personal experience of the 50+ women interviewed, and thought-out customer discovery, the team narrowed their business focus to caregiving friends with breast cancer.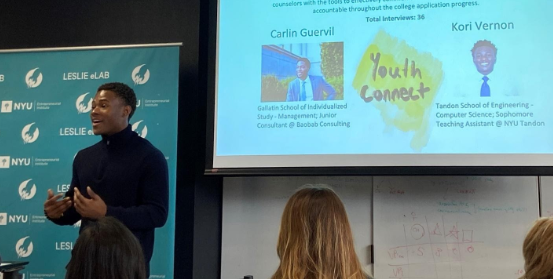 Kori Vernon, from Youth Connect
Youth Connect looks to improve college matriculation rates for public high school students in underrepresented communities by connecting them with key resources, mentors and college counselors to foster their applications and increase their extracurricular involvement in opportunities. Carlin Guervil (Gallatin '21) and Kori Vernon (Tandon '22) exploited the resources offered during the Sprint and mentors' help to evolve and define their business model. Their biggest takeaway? Realizing the importance of referrals in the business field they want to explore.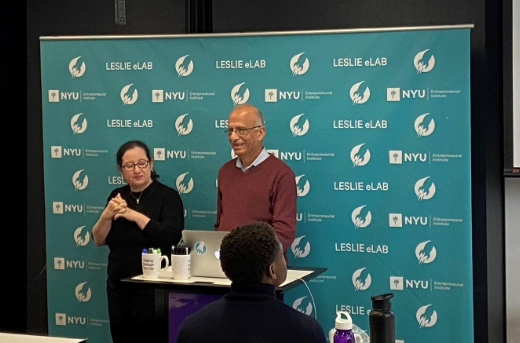 From left to right, Professor Debra Laefer and Dr. Salam Al-Sabah, from Intermeshed Steel Connection
The minds behind Intermeshed Steel Connection, Professor Debra Laefer (Tandon) and Dr. Salam Al-Sabah, believe that unexpected problems call for unexpected solutions. Relying on their expertise in the field, they intend to revolutionize the steel industry by introducing a novel type of laser/water-jet cut structural steel beam connector as a substitute for the established welding or bolting assembly process. While their physical prototype is at present ready for commercialization, they will work in the next 9 months to expand customer segment identification, interface directly with steel industry professionals, complete profit planning and finally acquire their first customer.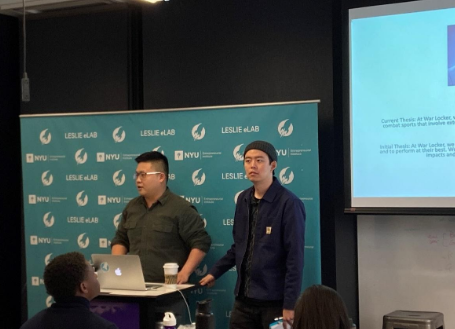 From left to right, Kyle Yang and Stanley Chen, from War Locker
At War Locker, founders Kyle Yang (Stern '21) and Stanley Chen (Stern '21) create technologically innovative protective gear for athletes who participate in combat sports involving extensive kicking, offering a distraction-free performance. Besides adjusting their value proposition narrowing down the customer segment, the team learned that associating a winning image to their product can be of key importance in shaping brand loyalty and awareness. Fights and fighting permeate also in the motivational message Kyle shared with the other teams: "We are in THE arena. It would be easy to be a spectator, but whether a business makes it out alive or dead, we should all be proud of getting out there and fighting for it".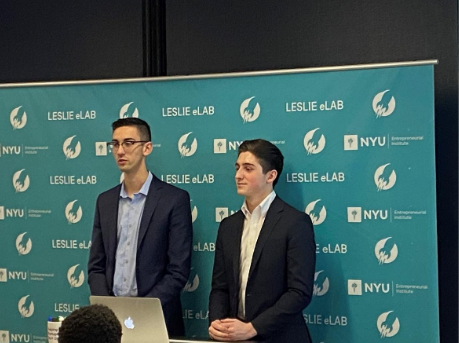 From left to right, Santiago Lopez Del Pino and Luca Washenko, from Opus
Opus is a platform whose goal is to give underrepresented startup founders access to seed stage capital through retail investment. Team members Santiago Lopez Del Pino (Stern '22), Luca Washenko (Stern '22) and Ian Clements (Stern '22) got to the final value proposition, and final logo design, after several rounds of revision, with the support of the Sprint mentors. One of the final feedback suggestions that the Sprint mentors team shared with the young entrepreneurs was about diversity: even more than for other businesses, pivotal will be for Opus to build a leadership team representative of the diversity they look for in their potential clients.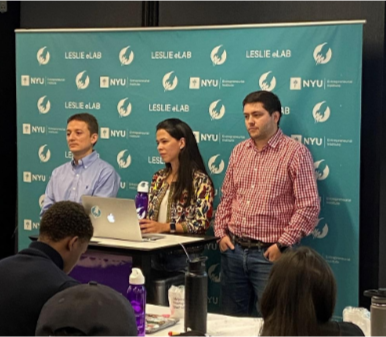 From left to right, Luis Felipe Giraldo, Laura Rocha and Jose Daniel Ramirez, from R3Analytics
Next, Laura Rocha (Wagner '20), Jose Daniel Ramirez and Luis Felipe Giraldo took the stage to present R3Analytics. Their startup is an AI-based platform that extracts, analyzes and understands public data using machine-learning to empower sales and marketing of consumer packaged goods companies with evidence to decide where to distribute and maximize the revenue. Leveraging their current job as consultants, team members plan to continue customer discovery and expand their connections with potential client companies within the local Latino community, while developing their software tools.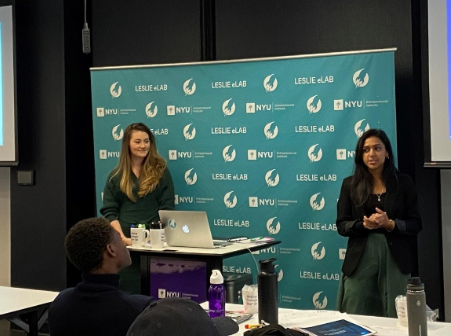 From left to right, Sydney McCoy and Rina G. Patel, from The Thinkers
The team at The Thinkers, led by Rina G. Patel (Gallatin '20) and Sydney McCoy, seeks to create a coaching platform for NYC middle class parents of teens diagnosed with ADHD, through engaging easy-to-digest parents and family courses as well as creating an ongoing, parent-to-parent support community. Embracing the concept of specificity, the two founders approached the broad and deeply felt task of helping teens with ADHD, and narrowed their business proposition down to a very specific target problem and customer segments, tailoring specific services, key activities and resources. Their enthusiasm, together with their care for parent-child relationship, will surely bring The Thinkers towards bright horizons in its mission to help parents shape their kids into resilient, independent thinkers.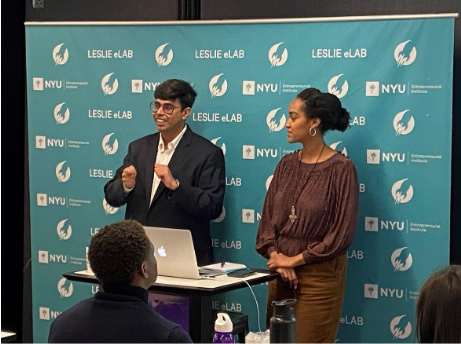 From left to right, Akash Yadav and Asnat Ghebremedhin, from Guava
Last but not least, is Guava, a "Know-Your-Customer" verification tool for consumer lending financial technology companies of developing countries. Asnat Ghebremedhin (CUSP '20) and Akash Yadav (CUSP '20) want to help Product Managers to de-risk and increase profitability of loans provided by their companies to under-documented people. Addressing an international market, Guava faced extra challenges in conducting their customer interviews, due to language barriers and time zone differences. This urge for adaptation impacted their business model, for which they explored tailored resources and channels to be used in the specific market areas of interest (i.e. India, Nigeria and Kenya). SMS-texts may not be that popular in the US anymore, but they may come still handy in business-to-consumer communication in developing countries.
In conclusion, the 2020 J-term Startup Sprint was full of brilliant ideas. Each one of the 11 participating startups delved into, expanded or completely reshaped their value propositions, but motivation and hard work is certainly what defined all their experiences. While there is still a lot of work to do, a bright future awaits these young entrepreneurs!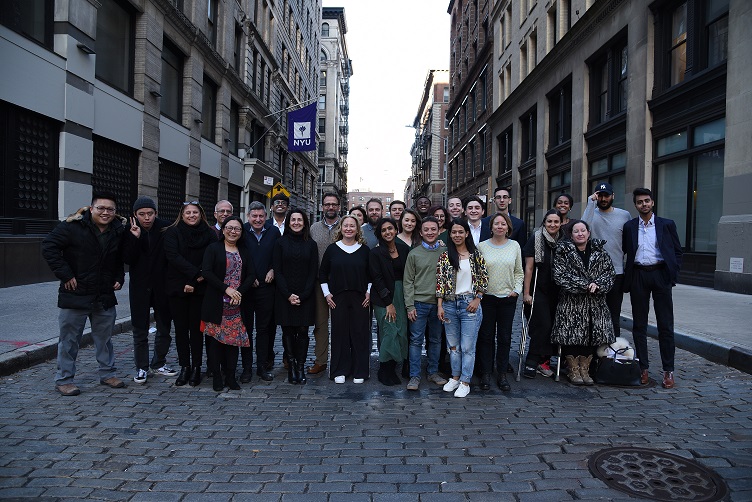 Above: J-Term 2020 Startup Sprint Participants