2020 Helping Startups Startup: 2020 J-term Startup Sprint
January 17, 2020
By James Perez
Typically during the end of  the semester students are preparing to de-stress, but not everyone is in such a hurry. A select few each semester decide to exercise their entrepreneurial spirit by taking part in the Startup Sprint hosted by the Entrepreneurial Institute at Leslie eLab and supported by the Convergence of Innovation and Entrepreneurship (CIE) Institute. Running in two separate sessions each academic year, participants are provided mentorship and hands-on feedback. While maintaining the integrity of their initial startup idea, the purpose of this 'launchpad style bootcamp' is to develop insights on untapped markets through customer discovery. The CIE Institute, directed by Professor Jin Montclare,  provides follow on funding opportunities for STEM based ventures.  
The startups or Teams as we call them, are usually comprised of students or faculty or staff from different backgrounds from all across NYU. In speaking with alumni participants in the past, networking tends to play a helping hand in how these innovative thinkers unite. With the days agenda set in motion the teams began to take center stage to introduce themselves as a company to their peers.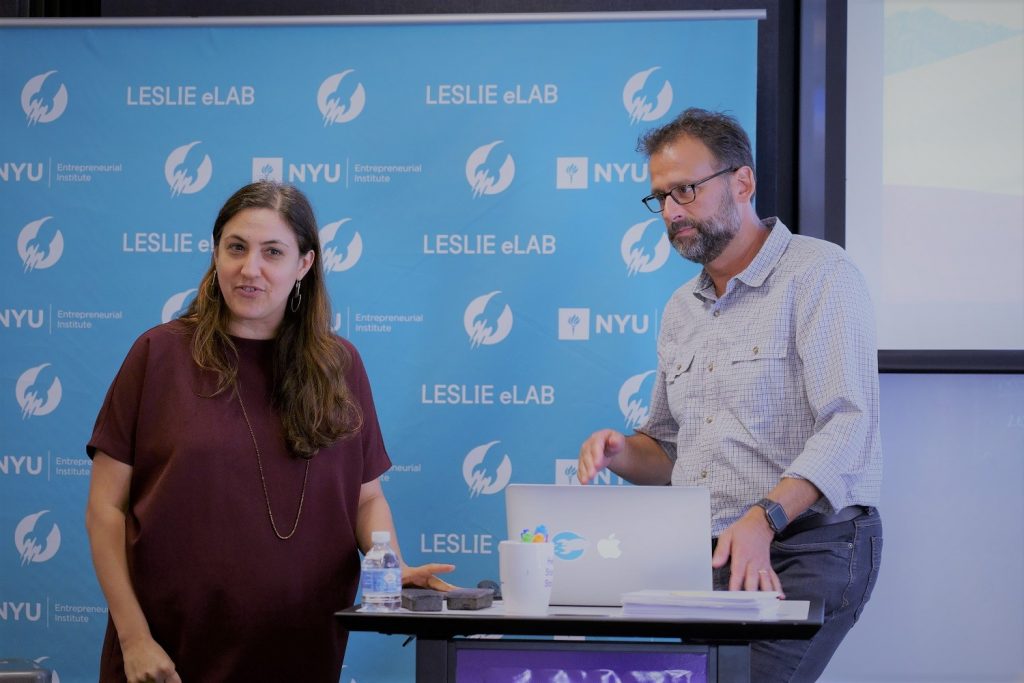 Entrepreneurial Institute's: Rebecca Silver, Associate Director & Frank Rimalovski, Executive Director
Sometimes the hardest thing about dealing with someone who has received a terminal diagnosis is knowing what to say and how to be their emotional support system and that's where CaregiveHER intends to step in.  CaregiveHer led by Ilysse Rimalovski (Gallatin '21) , Ilene Grossman and Faye Rimalovski,  is a platform that actively supports people that are supporting women going through breast cancer and other life changing diagnoses. Leaving medical advice to the professionals, they are offering something else that tends to go a long way, compassion.
Next up was  Myriam Sbeti (Tandon '18), decided to bring forward her new project, after previously participating in 2017 with Sunthetics. This time around joining her was Will O'Connell (Tandon 20'), ChemAIstry aims to speed up the research and development for new processes in electrochemistry. Their goal is to ultimately decrease our carbon footprint by changing the way in which chemicals are processed and potentially introducing newer alternatives to the scientific market. 
DpTron realizes that data is the foundation of data analytics and the most frustrating part of analyzing any data set is when there are missing values and spelling errors, which can delay the entire process. Bilal Munwar (Shanghai '21) and Muddassar Sharif (Shanghai '19) developed an algorithm that promotes machine learning to prepare or "clean" the data prior to it being sent for analysis. They project that this is a scalable technology that could be an asset to every company collecting data.
Global warming and the effects of climate change have been trending over recent headlines. Intermeshed Steel Connection, plans to revamp the steel industry with advancements to pre existing technologies that will reduce CO2 emissions. The steel industry has not had any innovation in over 100 years and Debra Laefer( Professor, Tandon) and Salam Al-Sabah intend to laser cut universal interconnecting structural beams. Ultimately it will lead to easy, time saving installation and disassembling options which will be less harsh on the environment.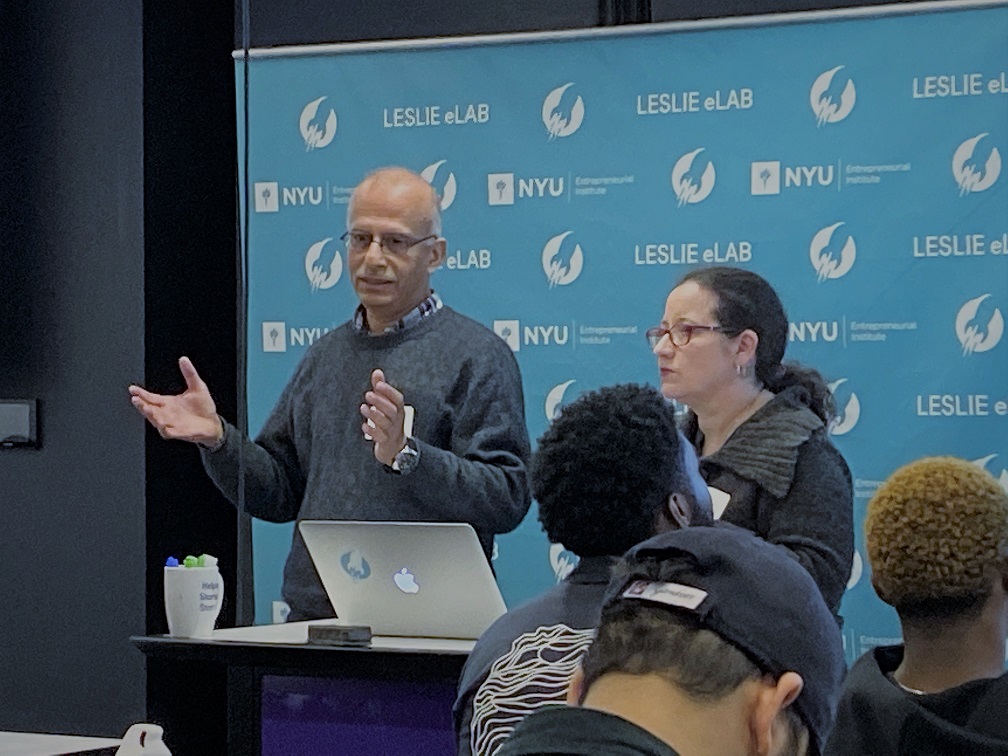 [Left to Right] :  Debra Laefer (Professor, Tandon) & Salam Al-Sabah
Mimameith is a platform that has technology that allows it to aid practitioners decide what is the best treatment to use for their patients. Team member Maria Grigos stated, "our technology can be used in a variety of medical fields because it can be individualized, but at the moment we would like to focus on speech pathology it is definitely just our starting point." During the sprint Kate Yi Wang (Steinhardt '20), Ying Lu, PhD (Associate Professor, Steinhardt), Thomas Gold, PhD with Maria intend to conduct several interviews with the focus being, what are the direct needs of the therapists?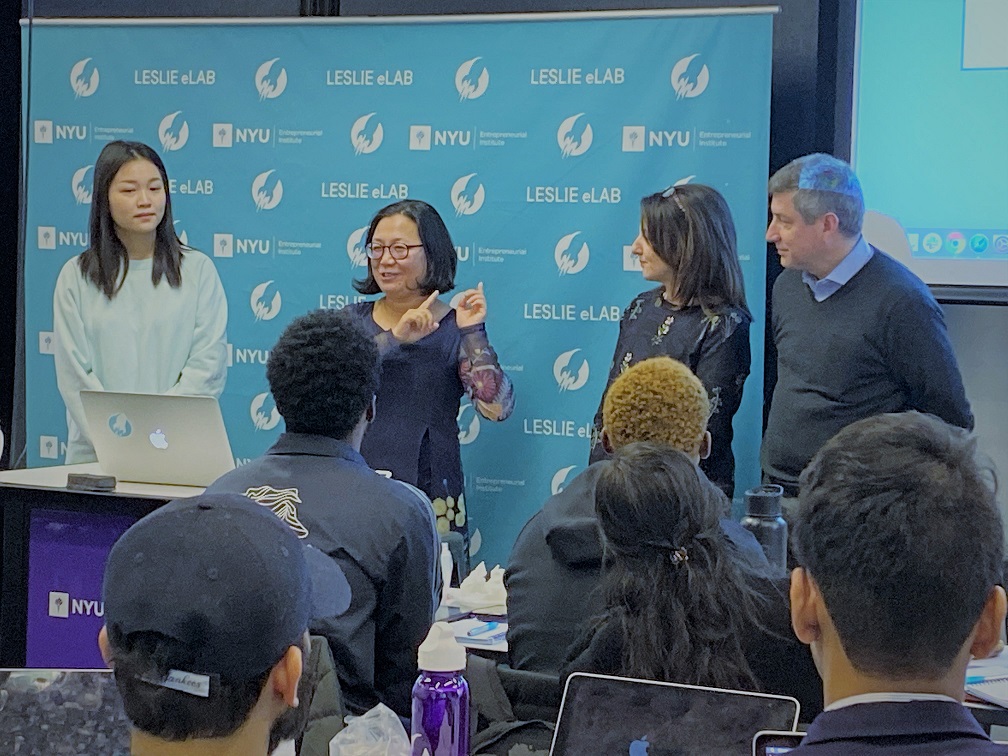 [Left to Right] : Kate Yi Wang (Steinhardt '20) Ying Lu, PhD (Associate Professor, Steinhardt), Maria Grigos, PhD (Associate Professor, Steinhardt) & Thomas Gold, PhD 
Opus sees potential in the use of cryptocurrency to help manage syndicated loans. In theory if they were to create a digital token that represents debt, they can be sold to third party debt collectors. Out-dated technology is what is holding the industry from progressing and with the introduction of their concept would help with lag time that is usually associated with debt collection. Another added benefit would help investors because the debt could be sold in smaller portions instead of the $1 million minimum currently in place. Over the next week Santiago Lopez Del Pino (Stern '22) and Luca Washenko (Stern '22) plan to tease out their hypotheses and figure out who their market really is.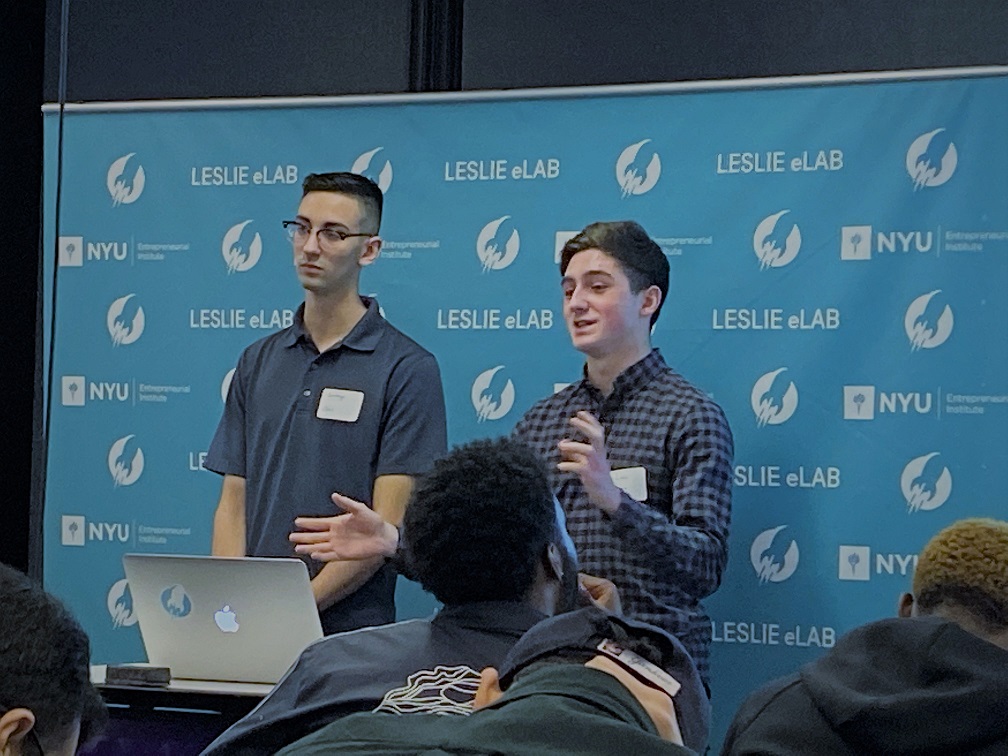 [Left to Right]:Santiago Lopez Del Pino (Stern '22) and Luca Washenko (Stern '22)
Youth Connect wants to give back to their community by serving a platform to aid New York City public high school juniors and seniors in their college and scholarship application process. Team members Carlin Guervil (Gallatin '21) and  Kori Vernon (Tandon '22) found that a majority of students do not take advantage of the available resources and during this time they are trying to find a way to bridge that gap. Through one-on-one mentoring they plan to provide tailored services to those interested. Through the customer discovery process they hope that guidance counselors can answer many of their unanswered questions.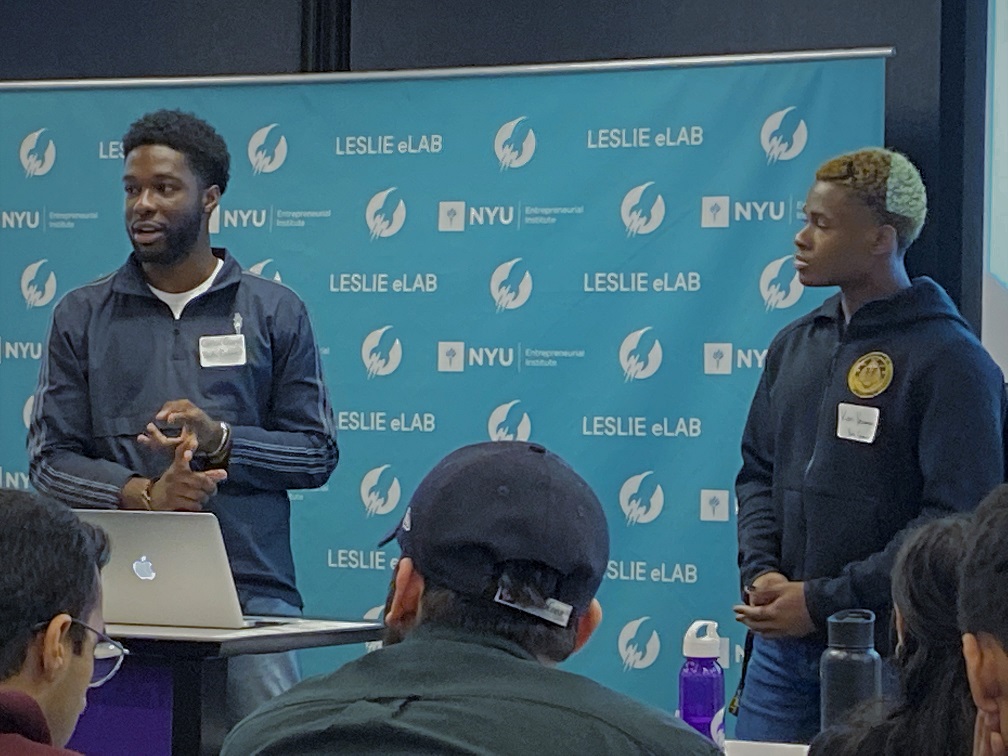 [Left to Right]:  Carlin Guervil (Gallatin '21) & Kori Vernon (Tandon '22)
With many companies going the route of data analytics, R3Analytics plans to take advantage. Through machine learning technology, Laura Rocha (Wagner '20) and Luis Felipe Giraldo plan to extract, analyze and visualize data in order to help companies increase their sales, making data oriented decisions. With a technology that could be applied to many different industries their primary focus will be the food packing industry. They have already established several connections with companies within the latin community and are looking to re-commercialize their products. With a reduced scope of target customer they can  tease out any flaws that may arise early on.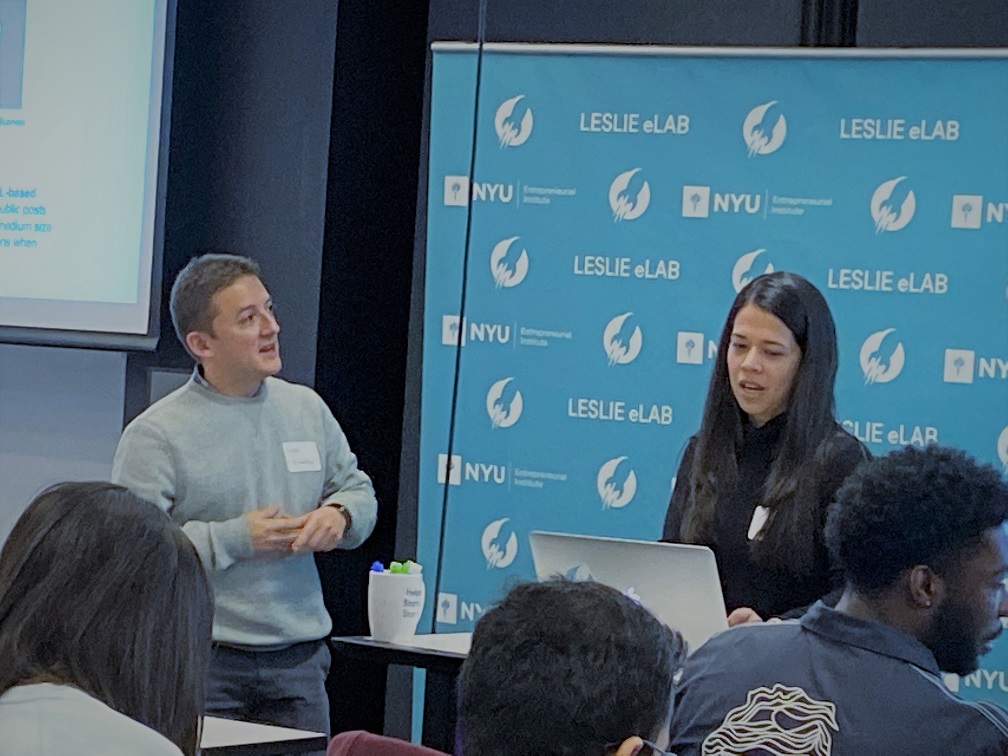 [Left to Right]:Laura Rocha (Wagner '20) & Luis Felipe Giraldo
Think back to a time when you were in elementary school, do you feel like you were completely setup for the obstacles life often throws in your way? Thinkers wants to bridge the gap between academics and life skills. Offering workshops in person and virtually to help instill life skills before graduating high school. Financial management is one area  Sydney McCoy &  Rina Patel (Gallatin '20) feel strongly about and through customer discovery interviews Thinkers would like to see what other areas parents and students feel are missing from academia. So far what they can tell from interviews conducted it didn't matter whether it was the mother or father each stressed the importance of having their kids be successful at life.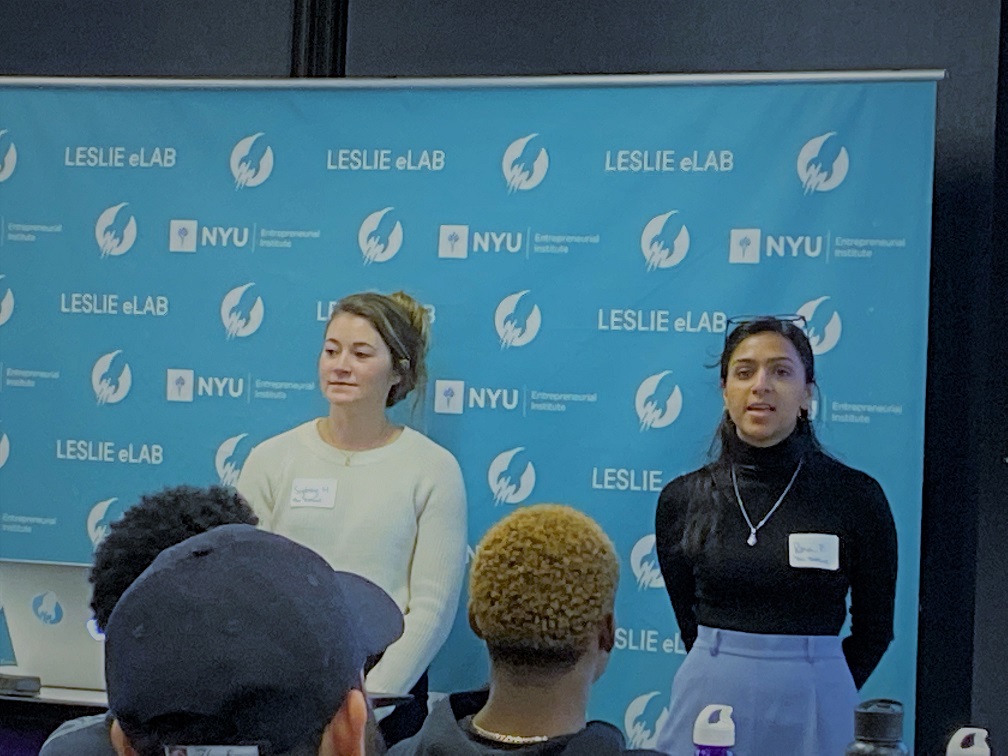 [Left to Right]: Sydney McCoy &  Rina Patel (Gallatin '20)
War Locker currently has 3 pending patents on design for their athletic protective gear. When speaking with athletes whether professional or not they all stressed the same feeling, protective gear was uncomfortable. So team members Kyle Yang (Stern '21) & Stanley Chen (Stern '21) decided to design a protective cup that would fix that problem. They plan to develop other wearable items in the future, but in the time being they want to figure out more issues that athletes face with their gear. Professionals would have more of a need opposed to hobbyists, What will determine who their target audience is the frequency of use.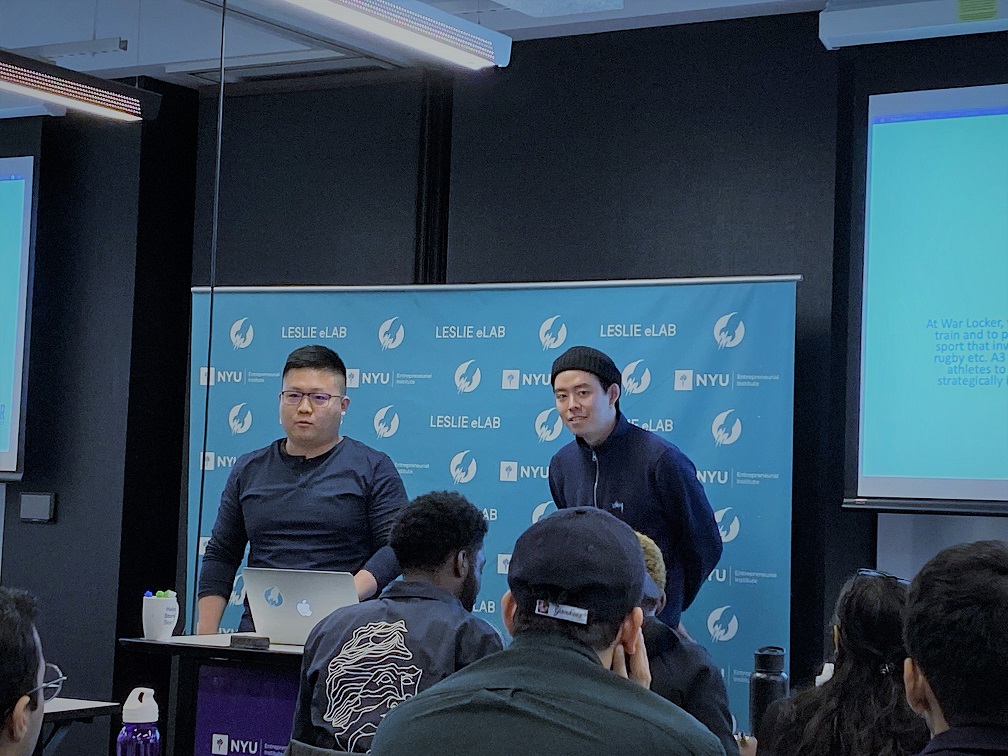 [Left to Right]:Kyle Yang (Stern '21) & Stanley Chen (Stern '21)
Overall we are looking forward to the 2020 J-term cohort finale to see how each team has modified their business modules. Many went in thinking they knew who their target audience was going to be, but after feedback some decided to broaden their scope while others realized they needed to reduce. It will be an intensive 1.5 week full of lessons carefully designed to help these startups startup.